FR0X04 Potez 25 Europe and America
Description : 
Roundels, badges, codes used on some Potez 25. Roundels are not provided in the sheet when they already are in the original box, in order to give more codes and badges. The below draft shows were we are. Users will have to take some care when cutting the decals, we are sticking as much decals as possible in the sheet (A5) - which means we let as few space for varnish and space between decals as possible.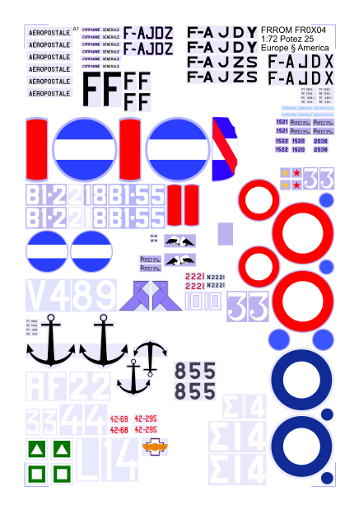 Presently, we aim at providing decals for countries, organisations and aircraft below (may change).
Decals:
Aéropostale: three aircraft out of the four F-AJDX, F-AJDY, F-AJDZ, F-AJZS. F-AJDX was the first Potez 25 to go through the Andes (Mermoz, Daurat), F-AJDY second Potez 25 in service for Aéropostale,  F-AJDZ is the most famous of all, the plane was lost in the Andes, the pilot, Guillaumed, managed to come back to safety after 6 days, walking night and day, F-AJZS an other Aéropostale Potez 25.  F-AJDX and Y : Lorraine A2,to modify,  à modifier, F-AJDZ and F-AJZS : TOE to modify slightly.
Air France : F-AJDY where "Air France" replaced "Compagnie Générale Aéropostale" and Air France badge was painted on the forward fuselage.If enough room in the sheet
France: no roundel but anchor for Marine and codes. Badges to choose. Lorraine
France : if enough room, one aircraft of the Black Cruise (blue Horse Paper)
Greece: big roundels and SIGMA 14 or SIGMA 4. Hispano
Paraguay: roundel, fin flag, White 3, Lorraine. The TOE version is usually more known, but Paraguay also had A2 aircraft and used them during the Chaco war.
Poland: no Polish squares. Badges for Sqn 34, 35, 55. Aircraft with code 42-68 (White 4) and an other one, we will probably not give the personal badges (Sitting Lion, Green Dragon) as we have no clear identification of the aircraft. Lorraine
Portugal : probably not, in any case no roundel will be given
Spain : one Potez 25 Lorraine from French Army passed to Spanish Morocco, to join the Nationalist Army after the outbreak of the civil war. French roundels were replaced by Nationalist Spain black circles with St Andrew cross. We are ttrying to trace the aircraft ... Might go to the Africa sheet, if not enough room on this one.
Switzerland: probably no flag but only number Black 855 (Hispano with Lorraine-like cowling).
Uruguay: roundels, fin flag, Tero insignas (small and large), codes to do ONE of the following aircraft : 1 (Hispano with cowling "Lorraine like" and inverted roundel), B1-2 (Lorraine), B1-5 (TOE), 5, 8 (TOE with small flag)
Yugoslavia: Lorraine, under study. No roundel, only Black 1 of Sondermayer and Badjak (went from Villacoublay to Bombay, and back to Yugoslavia)