FR0023 PZL P.11f in Rumania
History:
Pulawski's gull wing fighters were developed in Poland through a series of PZL designs (P.1, P.7, P.11 and P.24). The P.11c was the standard Polish Air Force fighter in September 1939,  and along with some PZL P.7's had to oppose a more modern Luftwaffe.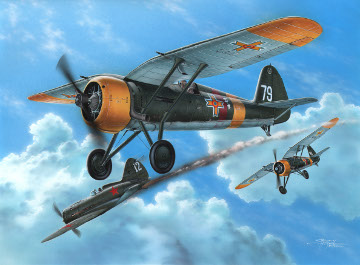 PZL also sold the P.11 to several foreign customers. One was Rumania, which bought fifty of the P11.b version. These were delivered during 1932 and coded from 1 to 50. They were similar to the P.11a, but powered by the Gnome-Rhône 9Krsd. The Rumanian manufacturer, IAR, then produced ninety-five P.11f's under licence.  These were a Rumanian version of the P.11c, powered by Gnome-Rhône 9Krse (610 HP), and had a modified cowling. Production started in 1936 at IAR's Brasov plant; airframe codes 51 to 145 being allocated to these. At Poland's fall large quantities of Polish aircraft, including some P.11c's, escaped to Rumania.
On June 22nd 1941, N°43, 44 and 45 Squadrons were part of Fighter Group N°3, whilst N°46, 49 and 50 Squadrons formed Fighter Group N°4. These squadrons were equipped with P.11f's built by IAR, although some ex-Polish P.11c's did later replace damaged aircraft.
Rumania's planes proved equal or better than their Soviet opponents. Between June 28th and September 22nd 1941, N° 3 and 4 Fighter Groups, using mainly P.11f's, claimed between 40 and 46 Ratas (Polikarpov I-16). This earned them the nickname of "Ratas killers". Some pilots displayed their tallies on a rather unusual way by showing a PZL pilot holding one or two Ratas on a leash. These successes were obtained for the loss of eighteen P.11f's during the Bessarabian campaign.
Some Aces belonged to N°43 Squadron. The Squadron leader, Dan Vizanti, scored a victory on September 17th, while Mircea Dumitrescu was shot down on August 31st, crashing the airframe N° 64, but bailing out safely.
P.11's were progressively removed from front line operations to serve in training schools. Consequently, many Rumanian pilots got the opportunity to fly this little fighter, either during the Bessarabian campaign or as new pilots during training.
Tests were done using two P.11f's on skis during winter 1941-1942, one of these planes was N° 122. As well the experimental skis, the kit includes an as yet unidentified device secured to the bottom of fuselage (was it a camera or a calibration device? We welcome any information on this).
Specifications: All-metal, single-engine, single seat, gull wing fighter with fixed landing gear. Wingspan 10,72 m, length 7,60 m, maximum weight 1590 kg, max speed 340 km/h at 5.000 m, operational ceiling 11.000 m, range  700 km. Weapons: 4 x 7.7 mm Vickers machine guns. Engine: one IAR 9Krse developing 610 HP (licence-built Gnome & Rhône.
Documentation:
PZL P.11 Stratus Publications (TBC: is it on P.11c or all P.11 versions?)
Romanian Fighters Colours 1939/1945 - T.L. Morosanu, D. A. Melinte, MMPBooks
L'Aviation Roumaine pendant la seconde guerre mondiale, M. Robanescu, T.L Morosanu, Editions TMA
Note: 
We included decals 16 for Cam. A and 13 for Cam.  D, for starbooard side. These victory symbols are well known by pictures on the port side but not certain on starboard side. 
The 'unidentified device' under fuselage of N°122 (Cam E) seems very much to be a hitch for towing targets.
The red band under the fuselage of n°79 (camouflage A) shows under the underside paint.