FR0037 Potez 25 A2/B2 Lorraine
History:
Henry Potez created the Société des Avions Potez in 1921 after working with Marcel Bloch in the S.E.A. during WWI. He assigned the design of the Potez 25 to Louis Coroller. Of mixed wood & metal construction and powered by a 450 ch Lorraine-Dietrich 12 Eb engine, the Potez 25 prototype is thought to have first flown early in 1925.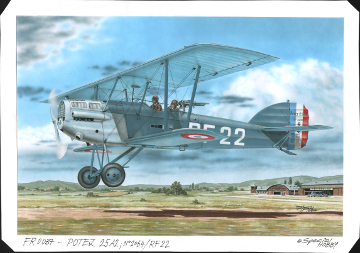 The first prototype (25.1) was transferred to S.T.Aé in 1925 for testing, whilst an unarmed prototype (25.2) made a tour of European countries to demonstrate the viability of the design. This indicated the need for some modifications, the most significant being an increase of the wingspan to 14.14 m.
The Potez 25 was one of the most widely built French aircraft between the World Wars. Most aircraft were powered by Lorraine 12 Eb, Hispano-Suiza, or Gnome-Rhône (a licence-built Bristol Jupiter) engines, whilst some used Renault, Farman, or Salmson power. Either Potez or Messier landing gear was fitted and three styles of tailfins employed. This very versatile design was operated by about 20 countries and was still in use at the outbreak of WWII.
The Potez 25 A2/B2 Lorraine was used by France (several hundred), Poland (316), Rumania (217), Abyssinia (3), Manchuria (25), Japan (15 aircraft, captured in Manchuria), Paraguay (where they were involved in the Chaco war and scored a victory), Portugal (one aircraft modified for long range raids), Uruguay (2), Yugoslavia (30), Brazil (18). Two A2 and three TOE (colonial-service) airframes were modified for use by the Aéropostale Company to fly the South American mail-route over the Andes.
The Potez 25 Lorraine served in the Aéronautique Militaire and the Navy, both in France and its various colonies. It also saw combat with Vichy French units over Syria and Lebanon in 1941 and was serving in French Indochina in 1945. Some Potez 25 were captured by the Japanese in March 1945, in Indochina, one at least was evacuated to Thailand when Japan surrendered to Allied forces.
Two Polish companies were licensed in 1926 to build the Potez 25.15, a model almost identical to the 25.14 in French service. They built 250 A2s and 50 B2s, which added to 16 bought from France, gave 316 Potez 25 Lorraines in all. These Polish aircraft were coded 42-01 to 42-316. Some were re-engined with Bristol Jupiters.
IAR in Rumania built 217 Potez 25 Lorraine in the Brasov factory between 1928 and 1934, but from 1938 they were progressively replaced by the IAR 37, 38 and 39. The last Rumanian Potez 25 was removed from active service in 1945.
Specifications (1929): Two-seat single-engined biplane for reconnaissance (A2) or bombing (B2). Engine: Lorraine-Dietrich 12 Eb giving 450 ch. Wingspan 14.14 m, length 9.10 m. Maximum speed: 219 km/h, ceiling 7,200 m, maximum weight 2,500 kg.  Weapons: 1 fixed Vickers machine-gun, 2 Lewis machine-guns on TO7 mount, 1 Lewis machine-gun under belly. Bombload (B2): up to 400 kg.
And :
You may drill the air intakes (both sides of the engine), please look at the boxart.
You may compare the Potez 25 with IAR 39 (FRROM kit FR001), IAR 37 and 38 (Special Hobby kits)
We are working on two decal sheets for Potez 25 A2/B2  Lorraine and Hispano (including some Aeropostale aircraft). Release expected in January/February 2020
Documentation :
Potez 25, Lela authors,  Lela Presse (in french, 256 pages)
IAR-Potez 25, Supplement Modelist n°1, Dan Antoniu and George Cicos, Rumanian and English
L'Aviation Française en Indochine, 1910-1945, M. Ledet, C. Cony, L. Morareau, Lela Presse (in french, 640 p)
Camouflage schemes:
Camo A: Potez 25 A2 Nr 2054, White RF 22, Aéronautique militaire, Rochefort training unit, France, 1937
Camo B: Potez 25 B2  Nr 42.216, White 6, 34 th Squadron, 3 nd Regiment, Polish Air Force. Aircaft built by P&L. Poznan, Poland, 1932
Camo C: IAR-Potez 25 B2  Nr 211, Rumanian Air Force. Aircraft built by IAR in Brasov probably in May 1934. The fuselage emblem was the head of Mars, roman god of War, against a white circle.
Camo D: Potez 25 A2 in French Indochina, captured by the Japanese in March 1945, sent to Thailand when the Japanese forces surrendered. Don Muang (Thailand), Autumn 1945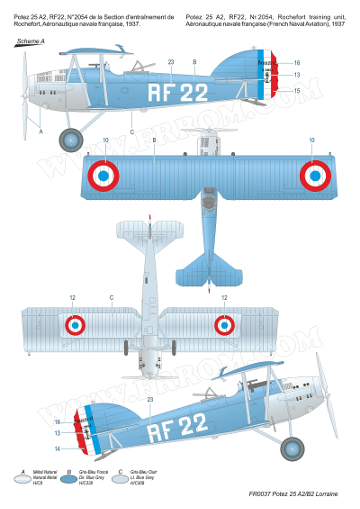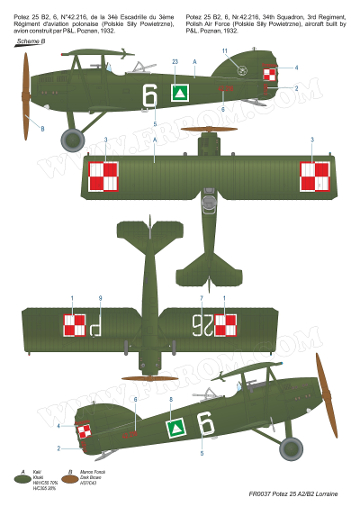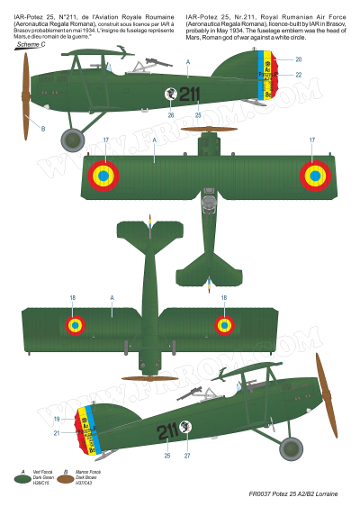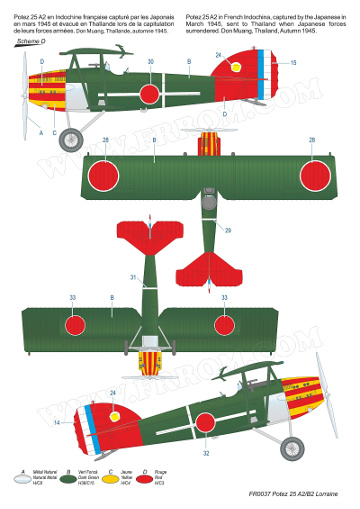 3D views :