Home
Next event: Mundolsheim, near Strasbourg, June 17 th and 18 th, 10 % rebate on "collect on show" orders, as usual (page Other), please order before Thursday 15th at 20:00. Please have a look at the new decals

FR7001 SMB2 at 1/48 th: all sprues done. Release expected in July 2023 in Prague. Please see below the assembly test shots.
Fairey Battle: please see the FR0047 and FR0048 boxarts in the corresponding pages. Release expected in Q3 2023 in Prague.

FR0051 Gamma Bomber in Spain: on the dedicated page, sold directly on the site (Contact page).

Projects:
We only have a few remaining copies of our book "Leo 45" (in english)
Gamma Bomber in Spain : we have produced this kit in 1/72 nd, injected plastic. The kit is sold directly in our site, coupled with FR0034. Only 250 pieces.

Please have a look at our new decals (FR0X05 to FR0X10). The serie will be VERY limited (125 only).
FR004 kit Savoia SM 79 JIS/JRS B is sold out. We still have a few kits, without boxes, so we can't sell them to shops. You may still order to collect at events (with 10 % discount). Same for FR021 Mystère IVA Israel (a few damaged boxes left), FR0024 Stampe Belgium, FR0025 Stampe France, FR0028 Breguet 1050 Alizé 1G France.

Low stock: FR003 Fleet Finch (3), FR011 PZL P.24 Over Danube. FR0029 Alizé ALM, FR0030 Alizé ALH, FR0044 B-10B in US service (1).

SPAD 510, first build, please see the Gallery.

Test shots, Super Mystère B2 in 1/48 th:
Assembly Tests Shots:

Sprue A Fuselage:

Sprue B Wings:
Sprue C:
Sprue D:

Sprue E:



Sprue F (engine):
Sprue Z (Clear parts - only one set)

3D images: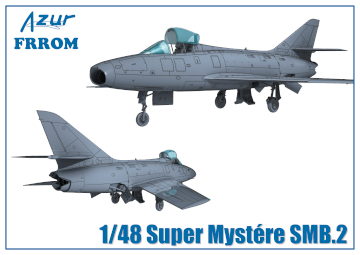 Sprues, Super Mystère in 1/48th, (design):