FR018 Vickers/Casa Type 245 "Spanish Vildebeest"
History:
The maiden flight of the Vickers Vildebeest  torpedo-bomber occurred in April 1928. Spain ordered 27 aircraft but specified the installation of an in-line Hispano-Suiza V-12 in place of the original Bristol radial engine. C.A.S.A. obtained a production licence and started assembly at Getafe in 1932, but only began deliveries of the first planes by 1935. 25 planes in total were built under licence and two, including the prototype G-ABGE,  were bought assembled from the U.K.  These Vickers assembled planes were given the last serial numbers of T-26 and T-27.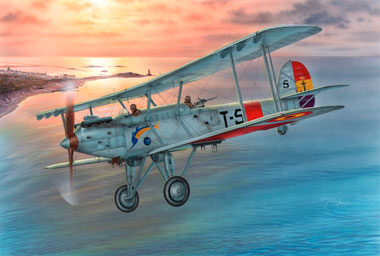 The Vildebeests were sent to San Javier (Murcia) shortly before the civil war began,  but at the time they lacked machine guns and essential weapons-related equipment like bomb-sights and  bomb- racks. All Vildebeests  remained under Republican control following the outbreak of civil war in July 1936. During the first months of the war they were employed as bombers despite their lack of bombing equipment, due to which a third crew member manually despatched the bombs through a panel under the pilot's seat!  Vildebeests were moved to Manises (Valencia) to support the Aragon front by bombing Teruel  whilst operating from El Prat, Sarinena and Lerida. Some planes also fought in Andalusia, where one was downed by Joachim Garcia Morato on  8th August , 1936. In all seven Vildebeests were lost after one and a half months of front-line operations.
At the end of 1936 the surviving Vildebeests underwent repairs at San Javier and Los Alcazares, where they were at last fitted with bomb-sights and racks. They were allocated to Grupo 73 for coastal defence duties until the war's end, being  distributed over various airfields on Spain's East coast.  Only two Vildebeests survived the civil war, these were T-23 on Los Alcazares and T-17 in Barcelona, the latter in floatplane configuration. Despite being designed as a torpedo bomber there are no accounts a Vildebeest torpedoing a vessel during the civil war.
Camouflage and markings: The Spanish Vildebeests were initially painted in aluminium, with the four roundels in the usual locations on the wings. The rudder was painted with three equal horizontal bands  running top to bottom of red, yellow and mauve. This was  superimposed with an anchor and the crown, symbolising the Aeronautica Naval. The individual aircraft serial numbers  were painted on the fin and preceded by the letter T  followed by a hyphen (e.g. T-22). The serial number was also painted on both sides of the fuselage.  The squadron insignia was painted on the nose. Following the outbreak of civil war red bands are added  on top of the upper wing and  bottom of the lower wing, and around the fuselage (although there were many variations across different aircraft and units).  The surviving planes sent to Grupo 73 were camouflaged with green and brown blotches on top of the wings and fuselage. One plane was marked with a standardised republican code of BR-60.
Specifications: wingspan 14,93 m, length 11,22 m, wing surface 67,75 m2, total weight 3.850 Kg, maximum speed 225 km/h, ceiling  5.800 m, range 1.200 Km. Crew: two or sometimes three. Weapons:  one fixed machine gun on fuselage starboard side, one machine gun (sometimes two) on Scarff ring , 4 x 70 kg bombs ,  4 x 57 kg Vickers depth charges . Engine: one in-line Hispano-Suiza 12Lbr rating 600 Cv  driving a wooden two-bladed airscrew.
References: 
Avions n° 23, 24 (french)
Aviones en la Guerra Civil Espanola 1936-1939, J. Miranda & P. Mercado (take with some care)
L'Aviation Républicaine Espagnole, P. Laureau (french - but there is an english version)
Improvements: 
The propeller is rotating the reverse way (the boxart is correct). Uwe Borchert produced an improvement set, the propeller direction of rotation is corrected, and the other type of tailplane/elevators is included, see www.steelworks-models.de